Have you seen
Cee's Whipped Soap Blog? (Oil and Butter Blog)
It's so creamy, beautiful and just divine...
So what do you think I wanted to try next...well Whipped Soap of course :)
So I reviewed Cee's post and also a tutorial from
Nizzy
, and just when I thought I was ready for it I reviewed it again. I WAS READY!
I should have used one of the recipes listed in Nizzy's tutorial, but hard headed that I am, I decided to try one of my basic recipes and just tweaked it a little so that I had a higher ratio of harder oils.
So there I was entering everything into my soap calculator, singing a happy tune. I was home alone (kids were at school and daycare) and had all the time in the world to work on my soap. I WAS READY!!
I started to whip my hard oils and they were looking pretty nice and fluffy. I was getting pretty excited. Earlier I had frozen some Goats Milk and had slowly mixed in my lye, so it was ready, waiting in an ice bath . IT WAS READY!!!
I used a new fragrance from Nature's Garden called
Peach Perfection
. It is so yummy that it is now one of my favorites!
So there I was with fluffy oils and then I slowly started to add the Olive and Castor Oil...before you know it my fluffy oils turned into a soft, melted ice cream consistency. GRRRRRRR...I used too much soft oils. SIGH...so I was hoping that the mixture would get a little thicker once I added the lye water. Well, I carefully mixed in the lye water, making sure not to splatter anything (since I was using a mixer instead of a stick blenders). Well, the more I mixed the runnier it got! I added the fragrance and it was still just as runny. I was getting pretty frustrated. It was obvious that my try at Whipped Soap had certainly not worked.
So I colored it - got some pretty cool swirls and put this puppy in the fridge...thinking that with the goat milk it may over heat on me.
Here are the pics
It had a really weird mousse consistency. It actually looked pretty yummy and it smelled AMAZING!
Well, since it was a bit too soft I had to wait to cut it up.
At first I also was not sure how I was going to go about cutting it since Whipped Soap tends to harden up pretty quick and may crack as you cut. Now with this "
Frankenstein
" kind of soap I was not sure how I was going to go about cutting it. So I took a change and cut it the following day.
Sadly my soap had some lye pockets within the soap. It was pretty upsetting. All those oils, and I really thought that I blended it really well. I am thinking that because of the Goats Milk that it overheated on me. GRRRRR
Well, obviously I WAS NOT READY for Whipped Soap. :0(
So instead I drowned my sorrows in melting wax and came up with these cute little Wax Melts...
I think they are so cute and sure put a smile on my face :)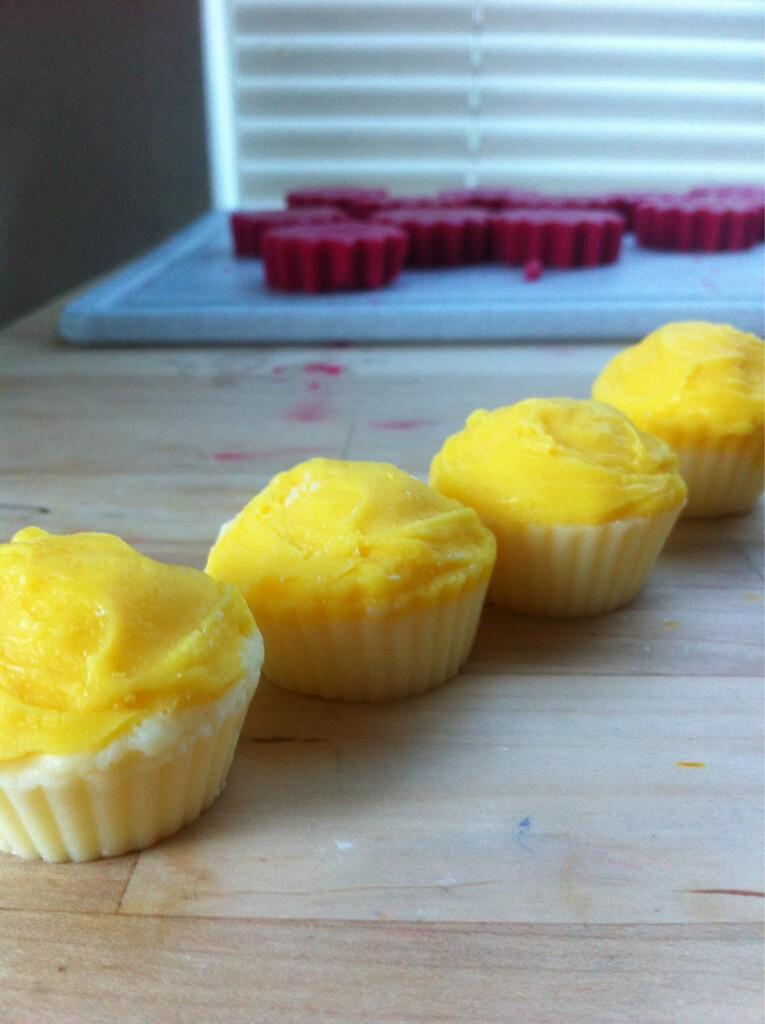 Thanks for checking out my blog!
HAPPY SOAPING!
Roxana